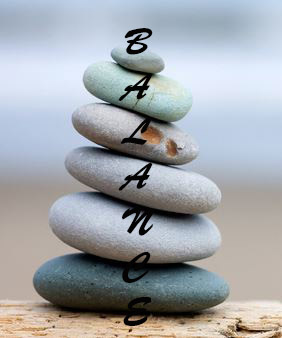 Today's Subject – Balance
From the beginning of creation our universe, earth and environment have continued to be in the process of keeping a balance. As things drift towards unbalance nature corrects it. When humans interfere with natural laws and create an imbalance nature sometimes corrects it quickly; however it is quite tolerant at other times. Keep in mind balance will take place. Nature has a few surprises for us from time to time and reveals some of her secrets without making us work. Other secrets are discovered as we observe her and work diligently to understand what has been there all along. I wish to share some thoughts with you that have interested me about that balance and how it applies to us. I trust they will be helpful to obtain a better insight and awareness. Our forefathers were well aware of many methods, allowing them and us to keep the body balanced. The fact is they left us some instructions that go as far back as 5000 BCE. for Aiverdic Medicine, and Reiki is at least 2000 years. (alternatives for healing) Consider the dietary laws and social rules that have been handed down. They are there to observe also to assist us if we so choose to understand and put them into practice.
The bodies healing and our learning take place when we are aware of, supported by and are in harmony with our creator and our universe. Our creator, body mind, spirit union are considered to be in balance when we begin to be aware that we are out of balance and a choice is made to support restoration. I will attempt to explain a little about some alternatives for your consideration.
First thing to consider is, do you believe there is such a thing as balance? Think about things recurring, I believe it is not as chaotic as we might think. Once that is decided it is important to adopt a plan and order of things which can work for you and contemplate some of the following suggestions. Physical, spiritual, emotional etc. also the challenges of life that you feel confident will facilitate your wishes for living, healing, and supply the necessary energy to move forward in a positive way while bolstering that personal energy. By now I am sure you realize it is important to consider the past IE. Keeping things in balance. We can learn from it in many ways which will aid with future planning also help with understanding life systems. Forgiveness and letting go are a big part of it also. As for the future we can plan for it but unfortunately we can not count on the fact things will happen the way we think. Obviously it can present us with a surprise which we will have to cope with in order to keep our life balance. There are gifts and life forces within us which will connect us with our spirituality, universal life force when tapped into will lead to the realization and union with the community of humanity, nature, and the divine. It is important to open yourself to all this type of thinking as this balance is necessary to maintain the healthy well  rounded life we were meant to live. We are all born with challenges, some more than others. Our ability to learn from them and cope with our reality world starts with understanding ourselves.   Balance comes with our perception of life itself, how we adapt and plan using our given ability. Seek the wisdom of others, honor, identify, recognize and connect with it. Take an active approach to this universal balance that can keep you and me directed also connected with that divine energy, mentally and physically fit and well.
Release any negative energy you can identify.
You no longer need to carry that excess baggage. Releasing it will set you free to truly live in peace and balance. It is an approach to life which when adopted will bring growth and healing to you and those around you. Be open and aware of all around you. Work at achieving BALANCE, you will be glad you did.
Come in for a chat and enjoy some tea or coffee. The place is Worcester County Memorial Park. Chaplains hours are from 9:30AM to 12:30PM. Mondays and Thursdays, by appointment. Call to arrange a more convenient time if you wish. I look forward to meeting you.
Chaplain Ken