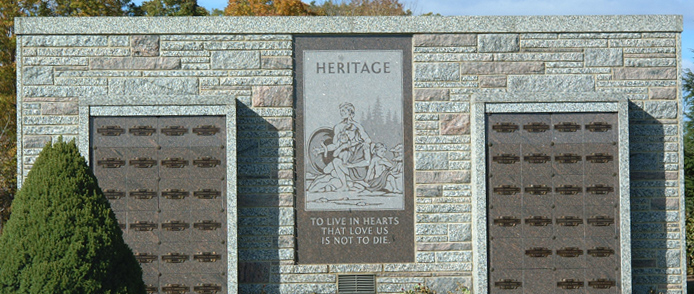 Cremation Options
The corners of our Heritage II Garden feature 12 buildings in all, Each offering a unique way to honor a loved ones memory.
Many people understand that cremation is a process of reducing a persons body by the addition of high heat and flame.  They also understand that cremation is not the final disposition.  Most educated consumers are also not going to look at these options and be sold on something that they don't need or want.
We hear people say all the time…. "My family can throw my cremains in the ocean…. I don need a burial spot!"
  Besides the religious beliefs in acceptance of this, most people are probably right.  It isn't you who is going to need a burial spot.  It is however, for those you leave behind, those who would be able to just send someone to the winds and not have a place to remember.
You might not know anyone who has ever had to do this, and scatter someones cremains and walk away, but we have.  We created these buildings to honor a persons life and memory, in a way that future generations would have a site to visit and and reflect on where they came from.
The corners have four separate themes, Wisdom, Hope, Peace, and Love.
| | |
| --- | --- |
|   |    New memorialization options allow for ceramic photos to be placed on the marker or choose from our brochures of military emblems, religious, affiliations, and even hobbies. |
Find Out More
For more information from Worcester County Memorial Park in Paxton, Massachusetts click here and fill out the contact page
and we will get in touch with you very shortly.